10 Hoverboard for Beginners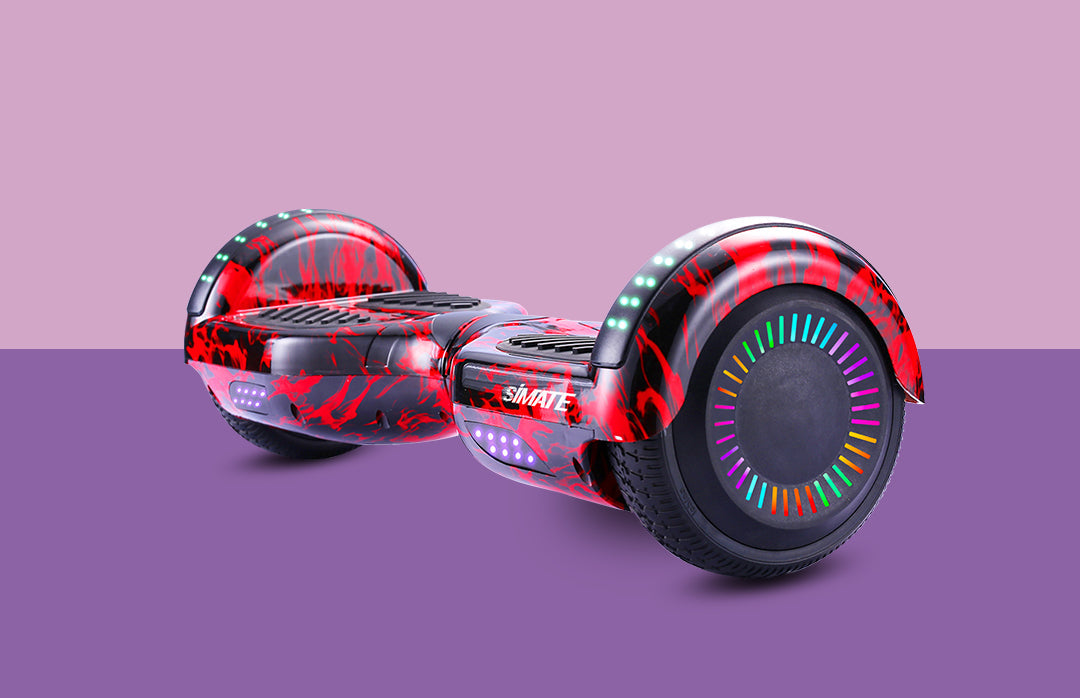 10 Hoverboards That Make Your Ride Fun And Safe 
Introduction 
Which is best– a lightweight off-road Jetson Aero or the super-fast Segway Mini Pro hoverboard? What to buy– budget-friendly GoTrax or a beginner-friendly Razor Hovertrax 2.0? 
Gone are the days when skateboards and roller skates were the only sources of fun. Nowadays, two or one-wheel hoverboard lies #1 when you stew over local commuting vehicles. The hoverboard's remarkable feature is that it's perfect for anyone, whether you're a 9-year-old playful kid or a 29-year-old salaried IT employee. 
Yet, here the question isn't about whether to buy hoverboards or not. Instead, it's all about which hoverboard to buy. And that's exactly what you'll uncover. You'll get a complete idea of choosing the best self-balancing scooter after reading till the end. 
So, let's dive in.  
Best Hoverboards In 2022
 

| | | | | | |
| --- | --- | --- | --- | --- | --- |
| Product  | Motor | UL-2272 | Range | Top Speed  | Wheel Size  |
| Swagtron T6 Outlaw | 600 W (or) 300 W | Yes | 7-12 miles | 12 mph | 10" |
| Segway Mini Pro | 800 W x 2 | Yes | 12+ miles | 10 mph | 10.5" |
| Jetson Aero  | 300 W x 2 | Yes | 7 miles | 7 mph | 6.5" |
| Tomoloo  | 500-600 W | Yes | 3.4 miles  | 7 mph  | 6.5" |
| Razor Hovertrax 2.0 | 350 W x 2 | Yes | 6-8 miles  | 7-8 mph  | 6.5" |
| GoTrax Glide | 400 W x 2 | Yes  | 3.1 miles  | 6.2 mph  | 6.5" |
| Hover 1 Ultra  | 250 W x 2 | Yes  | 8- 12 miles  | 7 mph  | 6.5" |
| Hover 1 My First Hoverboard | 150 W  | Yes  | 3 miles | 5 mph  | 6.3" |
| FutureSaw Pro  | 350 W x 2 | Yes  | 12.4 miles  | 6.2 kph  | 8" |
| Epikgo Sport Plus | 250 W x 2  | Yes | 6.2-7.5 miles | 7.5 mph  | 6.5" |
Top 10 Safest Self-Balancing Scooters(Hoverboards)- The Detailed Review 
#1. Swagtron T6 Outlaw- Best Off-Road Hoverboard With Bluetooth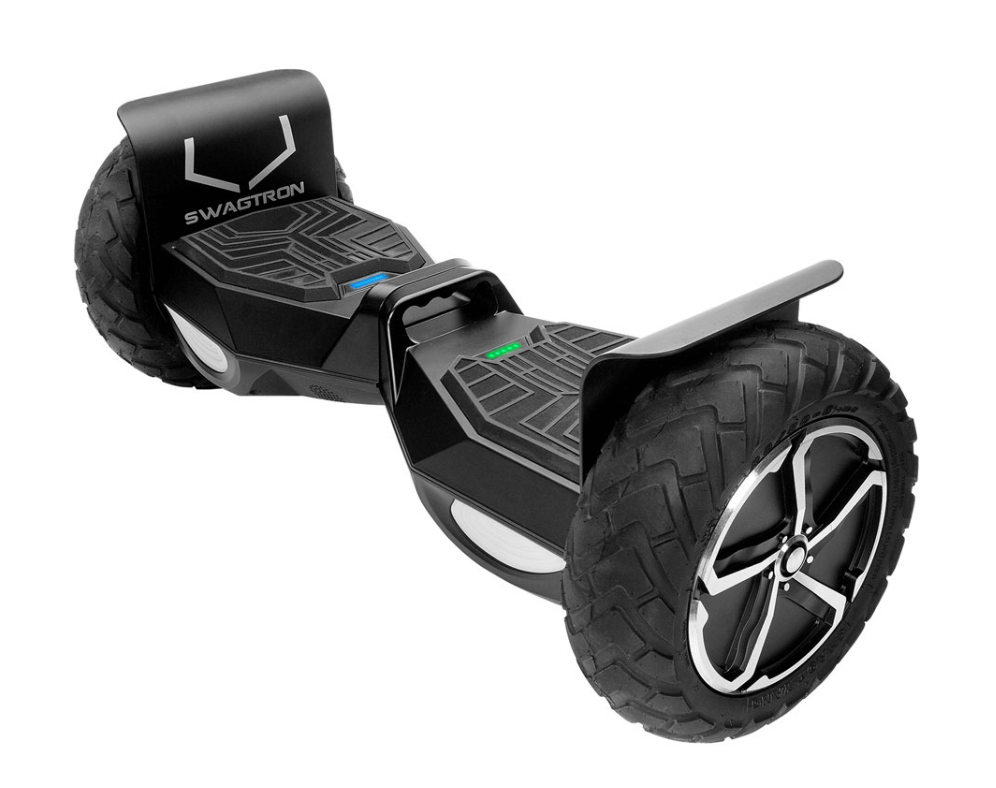 This 32 lbs Swagtron hoverboard is ideal for off-road activities. It's a powerful, speedy, heavy-duty, and long-lasting hoverboard boasting LED and Bluetooth features. 
The air-filled tires built with high treads ensure better traction on mud, grass, gravel, or smoother surfaces. The tubeless tires make your ride fun and safe on high slopes. What's more exciting about this off-road hoverboard is that it's fun to ride on all terrains, including 30-degree inclines with 12 mph. 
The 300-watt dual motors bestow greater stability and speed. This Swagtron scooter takes 3 hours to charge to run up to 12 miles, carrying 420 lbs on its 10-inch wheels. The only drawback is its Bluetooth feature that drains charging quickly. So, it's pretty tricky to analyze the precise running time of the hoverboard once it's charged. 
Who is it for?
Adults 

Professionals 

Adventure lovers 
Pros: 
Fine control options 

Speedy 

Sturdy built

Obeys UL2272 standards

Excellent customer service 
Cons:
The run time after charging is questionable 

Expensive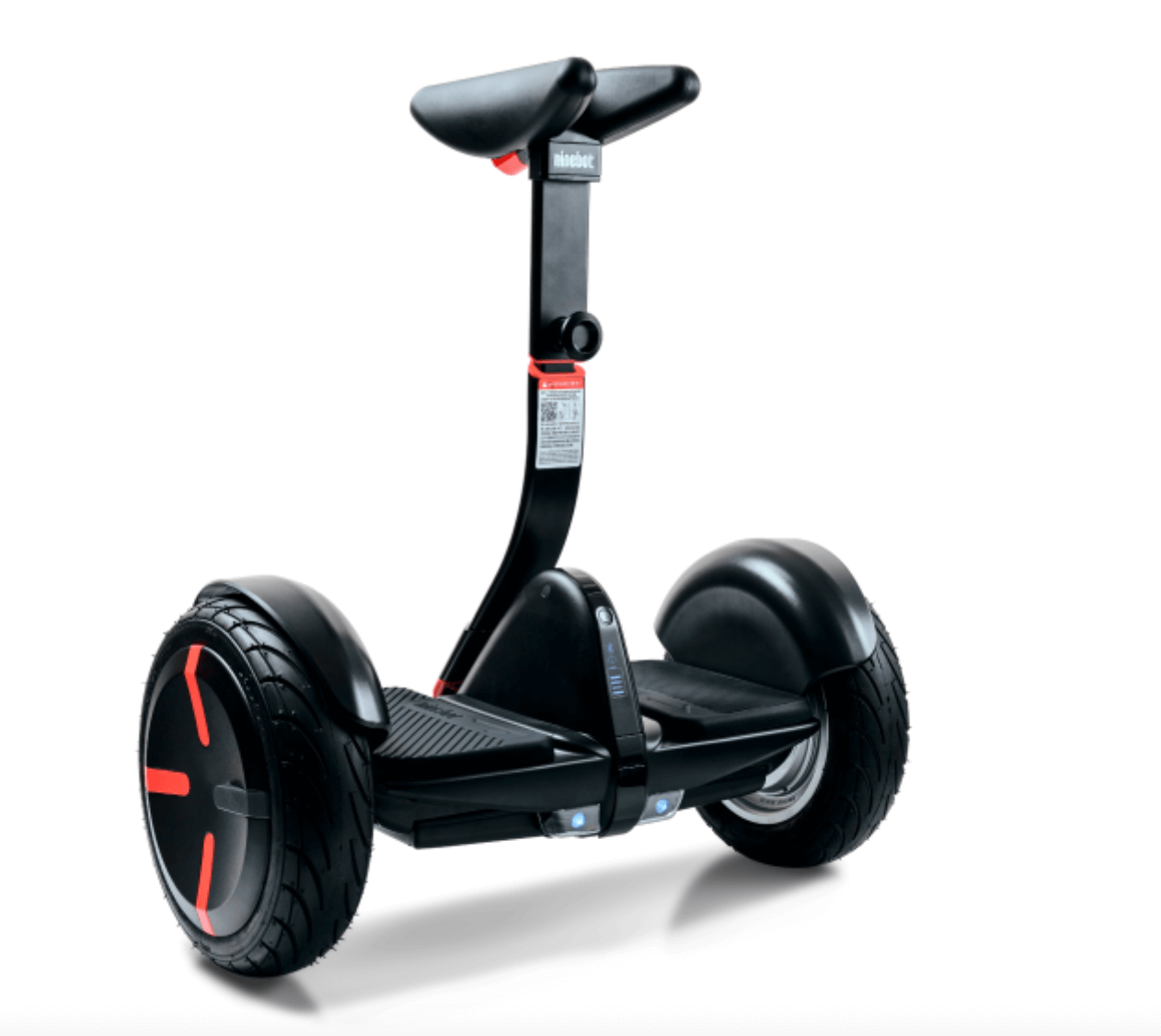 The Segway MiniPRO is the best self-balancing scooter. Its attractive design and magnificent color combo are eye-popping, and that's what attracts teens and adults. The Segway hoverboard is way more fun because of its Bluetooth features and smartphone app. The app feature lets you know battery life, number of miles traveled, competition stats with other riders, etc. 
The app's unique feature allows you to see other Segway owners near you. Although it's a bit weird, you can still enjoy it. Furthermore, you can disable a few features you don't like. It boasts anti-theft features and three riding modes. 
The adjustable knee bar ensures stability and balance, making the ride comfortable, especially for beginners. Coming to its charging time, it takes almost 4 hours to give a smooth ride up to 14 miles. 
Who is it for?
Pros:
Best for 15-degree inclines 

Dual 800-watt motor with a top speed of 10 mph 

Water-resistant 

Ensures utmost control and stability 

Obeys UL2272 standards
Cons: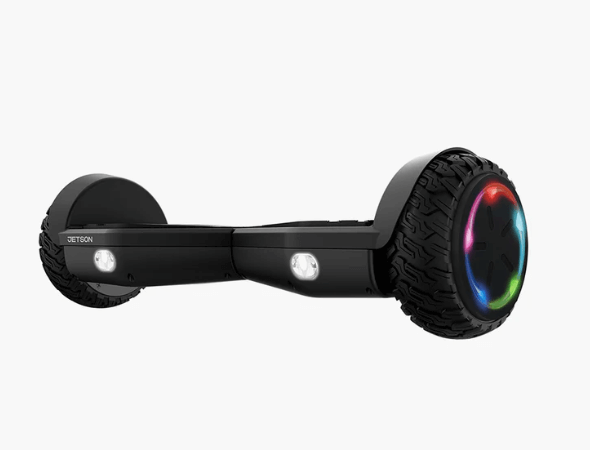 Did you know it's the only lightweight and handier product for both on and off-road rides? The multi-color lights on wheels set forth a funky aesthetic. This Jetson hoverboard weighs 19 lbs and carries a maximum load of 220 lbs. 
The 6.5" rubber tire has high-quality treads for a smooth riding experience, even on rugged terrain. It has 300 watts dual motors that push the hoverboard up to 7 miles per charge. It does the best when it comes to stability and control with its advanced internal sensor technology.
Unfortunately, it has no Bluetooth features. Jetson Aero is ideal if you want a lighter, easy-to-use, funky hoverboard. Alternatively, you can also choose the Jetson Sphere hoverboard with 10 mph, and 10 miles range if you want a slightly upgraded version. 
Note: The Jetson Aero hoverboard is currently known as Jetson Spin Hoverboard 
Who is it for?
Beginners 

Adventure seekers 
Pros:
Rugged tires 

Perfect for all terrains 

Lightweight 

Complies to UL2272 standards 
Cons:
Minimal battery life 

No Bluetooth feature

Frequent beep sounds 
Simate hoverboards are rich in playful aesthetics and advanced features that kids love the most. It's a classic hoverboard for kids boasting Bluetooth speakers, flashy lights, and self-balancing features. If you're worried about the safety issues, don't fret– This board has passed several safety standard tests and is certified with UL2272. 
The Simate Apato hoverboard has a badass self-balance technology that ensures extra balance and control for kids and beginners. It rotates 360 degrees smoothly with its dual 250 W motors. Furthermore, the strong aluminum chassis and robust 6.5-inch tires hold a maximum load of 200 lbs even on 15-degree inclines. 
What's more interesting is its speed and safety modes– It has three-speed and safe modes and runs up to 7.5 miles at a top speed of 7.5 mph. Moreover, the Bluetooth speakers and smartphone app technology features add more pleasure to your rides. 
Another cool feature is its quick recharge time– It only takes 120 minutes to recharge. Balance and gripping is the most common concern for beginners. However, the Simate hoverboard provides the best solution by providing non-slip footpads. 
Who is it for?
Pros: 
Fast recharge time 

Robust and sturdy built 

UL-certified 

Excellent safety 

Ensures great control and balance over motion 
Cons: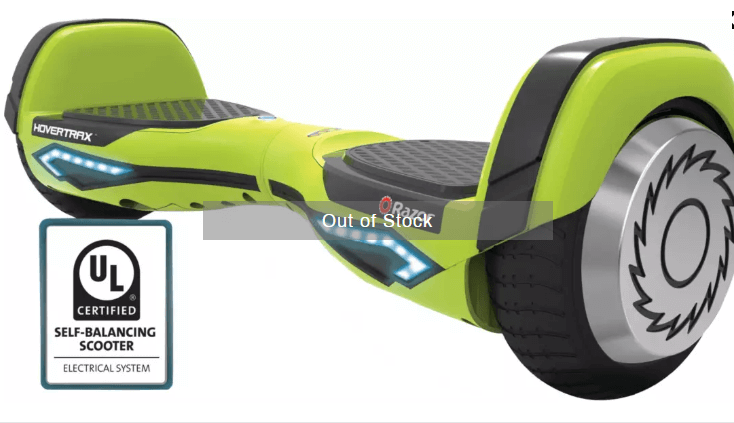 The Razor Hovertrax 2.0 runs 6 to 8 miles with a top speed of 8 mph. The 6.5-inch wheels carry 220 lbs load and run on 20-degree inclines effortlessly. Unlike many other hoverboards, it has a great self-balancing feature with a dual 350 W motor. The most attractive part is the multi-LEDs in front of the hoverboard. 
What makes this board more unique is its swappable battery technology. The only pitfall is it lacks Bluetooth. Although the sturdy and gripping wheels ensure stability, the gyroscope acts as an external stabilizer. Also, it has non-slip foot pads for extra grip.
This Razor hoverboard offers a training mode and is an excellent beginner feature. So, add Razor Hovertrax 2.0 to your wishlist if you're looking for a beginner-friendly hoverboard with unquestionable balancing features. 
Who is it for?
Pros:
Battery indicator

The excellent smart balance wheel 

Swappable 36 V Lithium-ion battery 

UL-certified 
Cons:
#6. GoTrax Glide- Budget-Friendly Hoverboard for Kids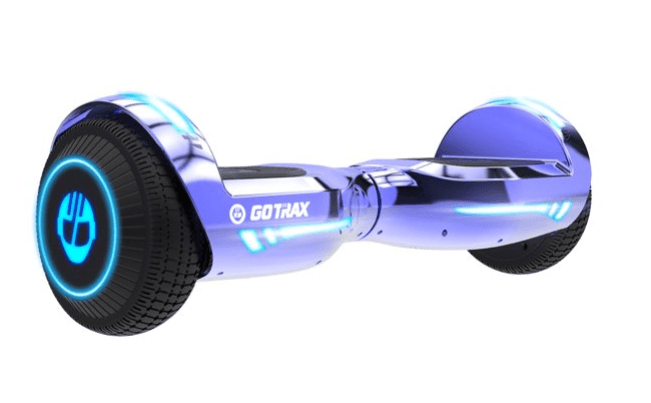 Are you looking for a hoverboard for around $100? Here's it– a GoTrax hoverboard that runs at 6.2 mph and rides up to 3.1 miles carrying 220 lbs. The front and wheel LED lights make the ride bone-chilling. At the same time, the dual 400 W motor and 6.5-inch solid rubber tires ensure stability during the ride. 
GoTrax Glide has the best self-balancing feature when compared to other cheaper alternatives. It even has a Bluetooth speaker– Now, the ride is more fun-loving and jolly. If you're wondering about the best gifts for kids for birthdays or Christmas parties, it's worth considering the GoTrax hoverboard. It's extremely light, which kids love the most. 
The self-balancing feature makes turning, moving back and forth, and braking easier. At the same time, the flashy LED lights make it safer to ride at night. Buy this lightweight Jojo Siwa Hoverboard that supports commuting within 5 miles at 6.2 mph if you're looking for Gotrax Glide alternatives. 
Who is it for?
Pros: 
Resistant to water

Affordable 

Excellent self-balancing feature

Ideas for Kids
Cons: 
Bluetooth quality is questionable 
#7. Hover 1 Ultra- Best Hoverboard For Adults & Teens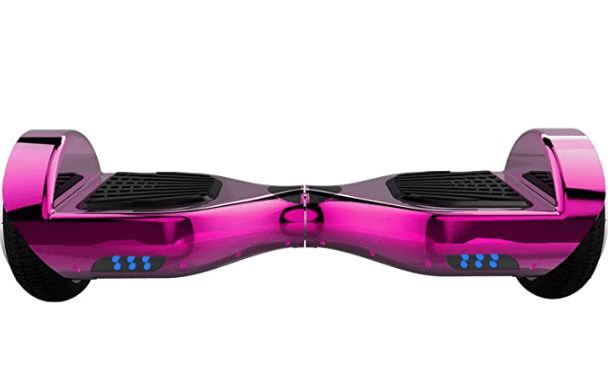 Hover 1 Hoverboard is great for teens or adults because of its fast-and-far attitude. It drives up to 12 miles at 7 mph with powerful dual motors and robust tires. You may think it has a slow speed, but it's enough for beginners who started riding recently. Moreover, the speed of this hoverboard spikes to 12 mph under suitable conditions(Smooth surface or flat ground). 
The dual 250-watt motor ensures smooth braking and turning systems. It runs across the 17-degree inclines effortlessly. This Hover 1 scooter takes 4 hours for a full charge and carries up to 220 lbs. Since the hoverboard boasts 6.5-inch tires, it's not ideal for off-road activities. 
The lack of Bluetooth and app technology makes it hard to read the data such as battery life, speed, etc. So, you should always keep an eye on the battery indicator. Usually, a green light represents a battery above 50%, and a red light indicates charging below 20%. 
Who is it for?
Beginner riders 

College students 
Pros: 
Battery indicator

UL-certified and water-resistant 

Sturdy wheels 

Offers the best riding experience 
Cons: 
No Bluetooth

Only suitable for smooth and flat surfaces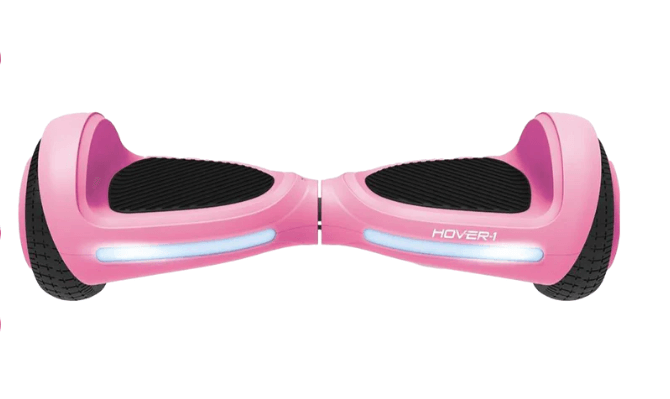 My First Hoverboard is best for little kids below eight years. The children love this board's little tires, elegant design, and smooth riding experience. It costs as low as $100 and boasts 6.3-inch tires. It runs with a top speed of about five mph and has 150-watt motor power. 
This hoverboard is available in various delightful colors such as pink, black, and blue. It operates only at a specific temperature from 0-40℃. And My First Hoverboard runs slowly and steadily up to 5 km or 3 miles. Hence, it's ideal for cute and little riders for small-distance rides. 
Who is it for?
Pros: 
Elegant design 

Customized for kids 

Easy to charge and operate 

Best gift for your child's birthday 

Adequate riding features for beginners 
Cons: 
Doesn't carry heavy loads over 80 lbs 

Not easy to balance 
#9. FutureSaw Pro: Best Long-Lasting Hoverboard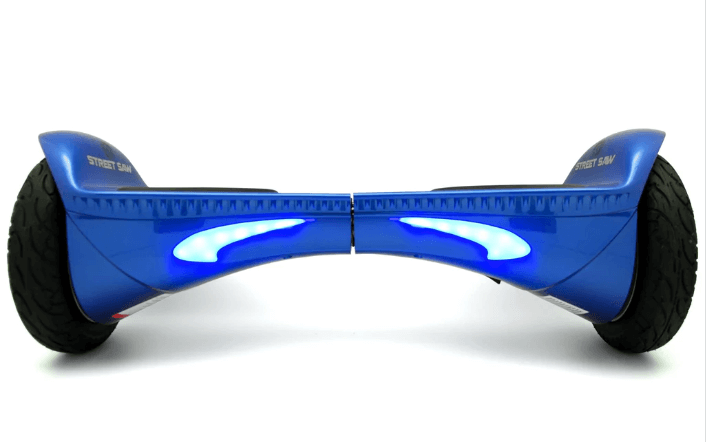 Here's another meatier and thicker hoverboard– FutureSwa Pro. It's one of the best hoverboards in terms of features and safety. Whether you want to ride sharp and long inclines or long distances, FutureSaw is an exceptional hoverboard for adults. 
It boasts a premium LG Li-ion battery that ensures a whooping charging capacity of up to 6 hours. It runs at seven mph for 12.4 miles per charge. Another notable feature is its quick battery charging– It requires merely 60 to 90 minutes to recharge. The dual 350 W motors push the hoverboard to climb high-sloped 30-degree inclines. 
The robust metal chassis with 8-inch tires withstand heavy loads effortlessly(Maximum load of 264 lbs). It's an ideal hoverboard for hulky riders. Furthermore, it has a Bluetooth feature to enjoy your favorite music during the entire ride. Add FutureSaw Pro to your wishlist if you're looking for a reliable and safe hoverboard. 
Who is it for?
Pros: 
Great for bulky riders 

Better range

Battery indicator 

Durable 
Cons: 
Expensive 

Lower speed than competitors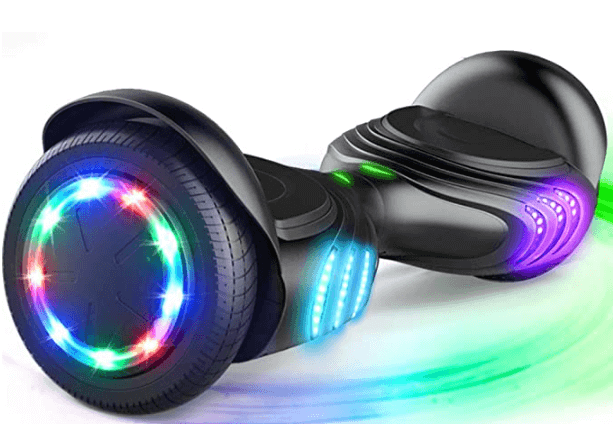 It's worth looking into the Tomoloo hoverboard if you want to buy or gift it to kids. It comes with flashy LED lights in distinct colors and cool self-balancing features. The best part is its heat and fire-resistant design. The board works well on 20 to 30-degree inclines carrying about 220 lbs. 
The Tomoloo hoverboard is built with robust material that contributes to its durability, whereas the matte finish creates a chic look. Its battery life is four hours and runs up to 4.3 miles. If you think it has a pretty low range, this is much enough for kids. 
This self-balancing scooter runs at 7.5 mph. It has an excellent Bluetooth speaker with clean audio and bass. The non-slip silicone foot pads ensure extra control over motion while turning or moving back and forth. Add Tomoloo hoverboard to your bucket list if you're looking for a personal commute vehicle for paved paths.
Who is it for?
Pros:
Elegant design 

500-600 watt motor with racing-level tires

Easy to operate 

Acceleration sensor and Bluetooth speaker 

Water-resistant 

UL certified 
Cons:
The quality of a hoverboard Bluetooth is questionable 

Only for smooth or flat surfaces
Practical Buying Guide– Choose The Best Hoverboard That Fits Your Needs  
So far, you have come across the best hoverboards on the market. Although you've filtered out a few top-notch products, choosing the product out of ten hoverboards is still overwhelming. Isn't it? 
So, how do you choose the right one? 
Here's a practical buying guide to make your buying decision easier. Now, you can select the most suitable product in five simple steps. 
#1. Getting Started– Who's The User?
Are you a parent and want to give your kid a dazzling hoverboard? Or are you a teen looking for the best hoverboard for local commutes? There are different hoverboards for various users, from kids to adults. 
For instance, if the user is a little kid below seven years, "Hover 1 My First Hoverboard" is a wise choice. Meanwhile, if the kid is between 8 to 15 years with little to no experience in hoverboard rides, Simate Apato 6.5" is an excellent option. Similarly, FutureSaw Pro, Segway MiniPRO, and Jetson Spin are great for adults. 
#2. What's Your Purpose? 
Do you want to travel short or long distances? Do you want to have fun or adventurous activities? Would you like to go for off-road or on-road rides? 
For example, choose a hoverboard with bulky 8" to 10" tires, a high-power motor, and an ultimate self-balancing feature for off-road or adventurous rides. In general, a 250 W motor is enough to ride locally. But 250 W dual motors ensure excellent self-balance and enhance overall performance. 
Note: Motors below 300 W aren't suitable for hulky people. Also, remember that a 250 W motor is different from a 250 W dual motor. The 250 W dual motors combined produce a power of 500 W motor.  
On the other hand, choose a lightweight 6.5" board that runs 7 to 10 miles at 7 mph for local commutes on flat surfaces. Another key thing to consider is the charging time– Good hoverboards take 60 to 180 minutes to recharge. In contrast, the low-grade hoverboards eat away a huge amount of time to recharge and discharge within an hour or two. 
Each of the products, as mentioned earlier, boasts a few unique features that are hard to find in other hoverboards. So, one should select the product based on its purpose. 
#3. Speed- Are you a beginner or a Pro? 
Speedy rides are thrilling but, at the same time, dangerous. The speed rides are ideal only for adventure riders and professionals– They require a 10 to 12 mph hoverboard. In contrast, a mere 6 to 7.5 mph is ample for beginners.  
Make sure you consider the terrain while assessing the speed. Bumpy surfaces don't support high-speed rides. So, choose low-speed boards if you reside on rocky or uneven terrains. In contrast, blindly go for speedy hoverboards if you can easily ride at high speeds on smooth surfaces. 
#4. Do You Need Any Help With Balancing The Hoverboard? Check Out Self Balancing Features.
Balancing a hoverboard is tricky for beginners in the initial days. So, buying a self-balancing board is an ideal choice. What about professionals? Don't they require self-balancing features? The simple answer is YES– self-balancing features ensure better speed, control, and performance and are required for both beginners and pros.  
#5. Do You Want An Advanced Hoverboard? Keep An Eye On Additional Features.  
Do you want to enjoy your favorite music while riding the hoverboard? Would you like to track your ride's speed, charging time, battery life, etc.? Are you looking for a contemporary hoverboard?
If you nodded your head to the above questions, you should look into a few advanced hoverboard features. Several hoverboards provide Bluetooth, smartphone apps, sensors, and many more advanced features. 
Suppose the Simate Apato has Bluetooth, a smartphone, and distinct operation modes for kids. Meanwhile, the Segway mini pro is a beginner-friendly hoverboard with anti-theft features.  
Buying Checklist:
Check out this checklist before buying the hoverboard. 
First things first: Who's the user– Kid or adult?
Whether the user is a beginner or a pro rider? 
Checklist:
Verify the maximum load 

Speed, range, and thickness of tires

Motor greater than 250 W 

Self-balancing features 

Bluetooth or Smartphone app features 

Recharge time and battery life 

Ease of climbing uphill(look out for its angle)

Related accessories 

Warranty 
Conclusion 
Hoverboards are fun, adventurous, exciting, environmental-friendly, affordable, and most importantly, everyone enjoys riding them. There are several hoverboards in the market, and choosing the best one is quite overwhelming.
However, deciding the best hoverboard is now easier. Here's the list of the best hoverboards you shouldn't miss out on. 
Swagtron T6 Outlaw– Best off-road 

Segway MiniPRO– Best for beginners 

Jetson Aero(Aka Jetson Spin Hoverboard)– Lightweight off-road and on-road hoverboard 

Simate Apato 6.5"– Classic hoverboard for kids & beginners 

Razor Hovertrax 2.0– Great self-balancing hoverboard 

GoTrax Glide– Affordable choice 

Hover 1 Ultra– Best for teens and adults 

Hover 1 My First Hoverboard– Ultimate choice for 5 to 8 years kids 

FutureSaw Pro– Meatier and long-lasting hoverboard 

Tomoloo Hoverboard– Best for kids 
Whether you're a beginner, pro, adventure seeker, tech-savvy, or a little kid, the above products are the perfect picks. All you need to do is know the purpose behind buying and choose the right product wisely. 
Frequently Asked Questions 
What's the hoverboard price on average?
There are hoverboards, such as Segway products, worth as low as $100 to as high as thousands of dollars. However, the general hoverboard price ranges between $100 to $700 based on quality, safety standards, speed, and additional features. 
Can I charge my hoverboard overnight?
No. You shouldn't charge them overnight as it leads to product damages. 
How can I know whether the hoverboard is good?
Check out the above-given hoverboard practical buying guide to buy the best one. 
Does the hoverboard catch fire?
Before 2015, there were several fire accidents and explosions of hoverboards due to poor safety measures. Almost all hoverboards are UL-certified and free from explosions, fire accidents, or other mishaps. 
Is there a flying hoverboard?
Yes. The flying hoverboards are real.
Are hoverboards waterproof?
No. There aren't any water hoverboards that come with waterproofing features. A few hoverboards in the market are, of course, water-resistant but not waterproof. 
---