Simate Apato 6.5" Hoverboard— Should You Buy It? (In-Depth Review)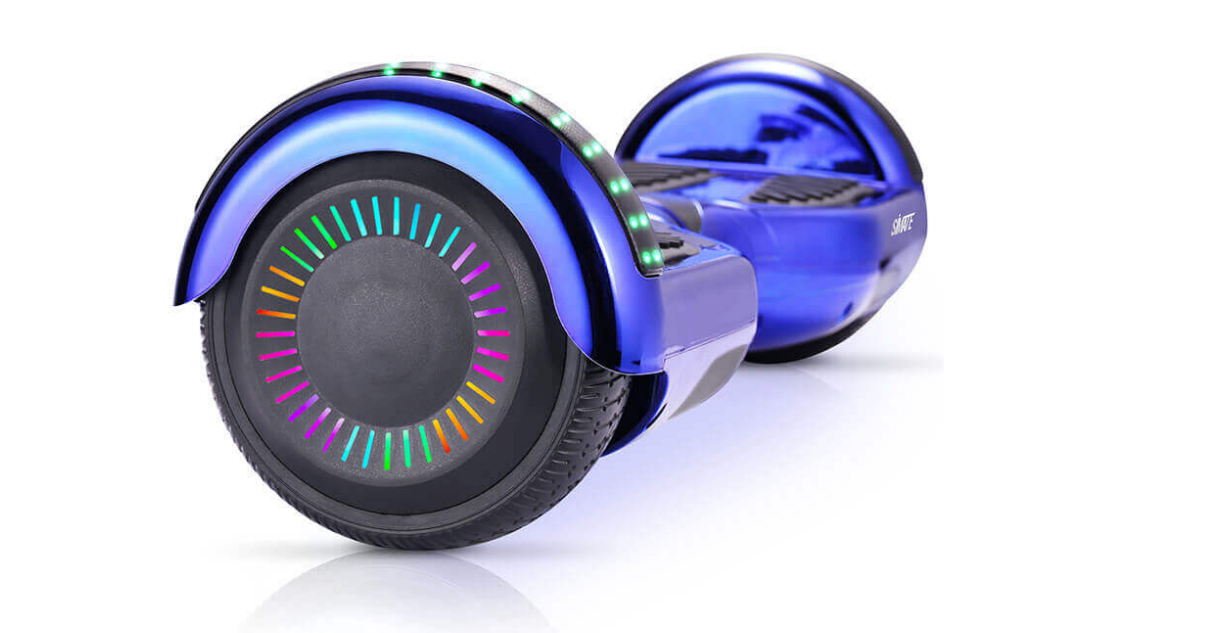 Who wouldn't love smart gadgets that are fun to use and make life comfortable? One such playful electric gadget is the hoverboard. Its craze has been increasing incredibly. Did you know the hoverboard market is valued at 778 million USD as of 2021? Thousands of people are buying these self-balancing electric scooters every day. 
Finally, you've decided to buy a hoverboard. But the problem is you aren't sure what to buy. Choosing the best hoverboard feels like finding a needle in a haystack. 
However, here's a Simate Apato 6.5" hoverboard— The ideal choice for little riders and beginners. Dive deeper into the article to learn more about the Apato 6.5-inch self-balancing scooter in detail.
Quick Highlights 
| | |
| --- | --- |
| Product Name  | Simate Apato 6.5" hoverboard |
| Range | 12 miles  |
| Speed | 7.5mph |
| Load | 40 lbs to 220 lbs  |
| Tire Size  | 6.5 inches |
| Battery  | 36v and 2Ah Lithium-Ion |
| UL2272 Certified  | Yes |
| Bluetooth Speaker  | Yes  |
| Overall Rating  | 4/5 |
Simate Apato 6.5" Hoverboard—— The Detailed Review
Let's analyze the features of the Simate Apato self-balancing electric scooter, such as Quality, speed, performance, efficiency, safety standards, and other details.  
#1: Material And Design Quality
Simate Apato 6.5" hoverboard is made of a sturdy ABS shell and lightweight Aluminum alloys. These materials are quite popular in the aerospace industry. In general, the ultra-thick 1.55mm ABS shell offers a rigid and durable body frame. 
The best thing about ABS shells is their scratch-resistant property— Which means you can enjoy smart and scratchless hoverboards even after using them for years. Although a few reliable hoverboards use ABS shells, such as Swagtron T1 Pro, Simate Apato is cheaper and offers excellent features than Swagtron. 
Moreover, the Aluminum components make a hoverboard lighter. However, this doesn't mean it holds less weight. In contrast, Aluminum alloys and ABS shells bear heavy weights. Simate Apato's tire size is about 6.5-inch. Although the 6.5 inch doesn't seem too large, its weighing capacity equals the Segway Mini Pro and performs better than the Swagtron T5 hoverboard. 
Usually, Apato offers a seamless riding experience, even for a person weighing 100 kg. In simpler words, If you're looking for a long-term investment in electronic gadgets, add Simate Apato to your bucket list. 
Rating: 4/5
#2. Range And Speed
Apato 6.5" hoverboard is designed for small kids, teens, and adults weighing less than 220lbs. Whether you love moving around the streets or hate going to street corner stores, Apato makes your best companion. 
Unlike many popular hoverboards like Swagtron T1 Pro, T6 Off-Road Hoverboard, Epikgo Sport Balance Board, etc., Apato supports an exceptional ride up to 12 miles. 
The speed of an average hoverboard for beginners ranges from 6mph to 8mph. While the speed of most hoverboards lies between 6mph and 7mph, Apato offers a maximum speed of 7.5mph. Although it's not a top-notch speed, it's ideal for entry-level riders.  
Rating: 3.75/5
#3. Performance 
Apato 6.5" Hoverboard offers an uninterrupted ride for a longer period. Whether you want to ride to school, shops, parks, late-night parties, or a friend's home, carrying this mini hoverboard is one of the coolest choices ever. 
Do you've no clue about riding a hoverboard? 
Chill, because you've got Simate Apato. This hoverboard is easy to use, and you can learn to ride it within a couple of hours. Did you know it takes less than 30 minutes to ride on side walkways? 
It can carry a minimum and maximum load of 18.1kg(40 lbs) to 100kg(220 lbs). Whether you're 25kg or 100kg, Apato offers a smooth ride, just like gliding on soft soap bubbles. Moreover, the powerful integrated two-engine system ensures the best ride at 15kmph for a rider weighing 65kg. 
Performance Rating: 4/5 
#4. Level Of Fun 
We calculate fun levels based on the hoverboard's ease of use and riding experience, such as how easy it is to spin or make rapid directional changes. 
Apato boasts gyro sensors on the pedals that contribute to a quick change in direction based on the rider's body movement. The riders can feel rapid control over the hoverboard since these sensors are a bit sensitive. It even ensures a faster and safer ride. Now, reaching home to a school or market in chilling or cloudy weather is easier and quicker. 
This hoverboard offers three-speed modes for first-time, intermediate, and experienced riders. Press the hoverboard's power switch for a couple of seconds to switch among various speed modes. Apato is your go-to choice if you're looking for a playful hoverboard power packed with advanced features.
Rating: 4/5
#5. Efficiency 
The Apato 6.5" hoverboard uses a 36v and 2Ah battery. It offers a longer charging period than many other standard hoverboards. One of the most common mistakes people commit is overcharging these electric boards. And this further damages the device's battery and internal systems. 
Here's some good news. Apato has a built-in Battery Management System(BMS) that effectively prevents the hoverboard from overcharging. This self-balancing scooter has three LED lights— Red, Yellow, and Green, indicating the charging levels. The red, yellow, and green lights indicate charging levels at 20%, 50%, and 100%, respectively. Moreover, the quick charging technology fully charges the hoverboard in less than two hours. 
The high-quality battery system offers you multiple charging cycles. Another best thing is its longer discharging time. Whether taking short rides regularly every evening or longer ones once a week, you don't need to worry about the hoverboard's charging levels. 
Rating: 3.5/5
#6. Safety Standards
The primary aim of the SimateBoard brand is to offer the safest self-balancing electric scooters. All the Simate hoverboards have passed various Quality and safety tests. Simate Apato is UL2271 certified, ensuring that all the substances used in the battery are safer— These components are resistant to water, heat, UV light, and flames. 
Similarly, this hoverboard is UN38.3 certified. This means the battery is free from leaks or other damages and ready to transport across multiple regions. Another best feature is a battery overload protection system. What exactly does it do? As its name suggests, it prevents the battery from overcharging. 
Apart from battery certifications and a battery overload protection system, Apato has an engine management system that increases hoverboard performance. The EMS prevents the release of harmful gasses into the environment, making it eco-friendly. The LED light flashes indicating errors if the hoverboard isn't in the appropriate condition. In a nutshell, the Apato 6.5-inch self-balancing scooter is highly safe, reliable, and eco-friendly. 
Rating: 4.75/5
What's More?
Simate Apato 6.5" is a high-tech self-balancing electric scooter with Bluetooth speakers. Now, you can enjoy your favorite songs while having fun on these boards. Also, the 250W brushless DC motors ensure a no-noise riding experience. These motors have a 12-month warranty. This product is ideal for kids to ride on flat surfaces. It even works great on indoor grass in your backyard.  
Summary: Is Simate Apato 6.5" Hoverboard Worth Buying?
Simate Apato is a well-built hoverboard with a premium quality battery, motor, and body frame. If you're an entry-level rider, Apato offers sensitive gyro sensor technology, ensuring a smooth riding experience. Even a novice rider can handle it without a hitch. 
The hassle-free charging features and range are other vital factors to consider. The rider can hit over 12 miles with one charging cycle. If you're concerned about hoverboard safety standards, Apato is one of the ideal solutions. 
It is UL2271 certified and offers ultimate protection. Whether an entry-level rider or a parent looking to present a hoverboard to your little kids, Simate Apato is your go-to choice and is entirely worth it.  
Note: The battery's charging capacity depends upon several factors, such as weight, terrain, speed, and weather. For instance, the charging capacity of a hoverboard with a rider weighing 65kg and riding at 7mph might not be equal to the charging capacity of a rider weighing 25kg riding at the same speed.
---