Meet the Hoverboards from the Simate Brand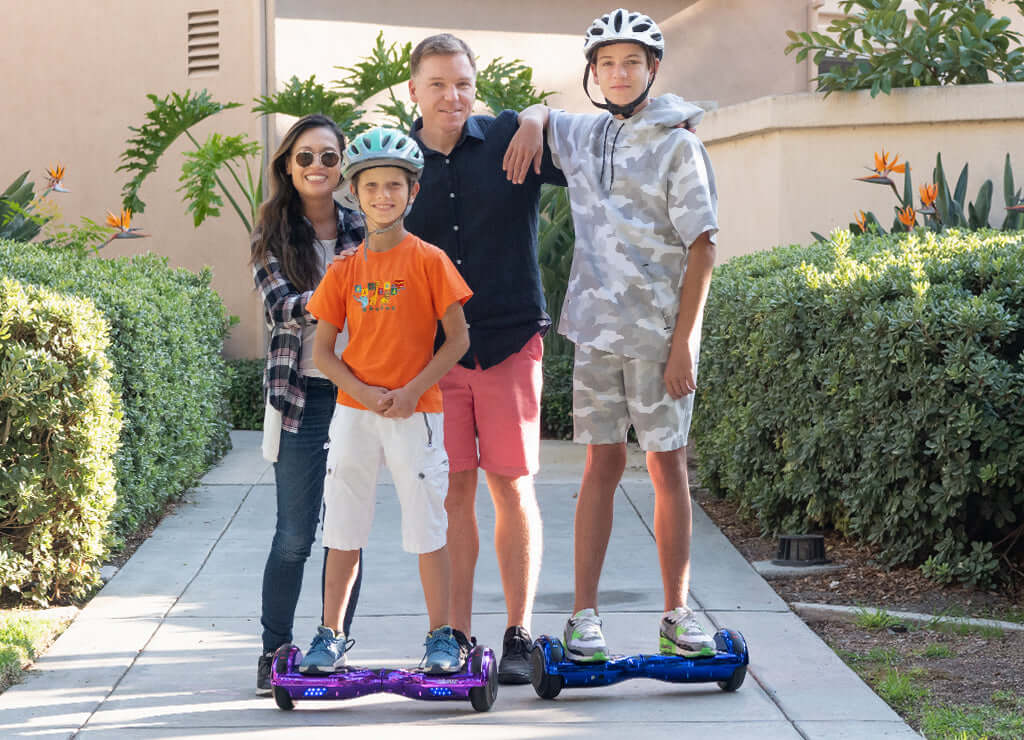 As you know, hoverboards are our main products at Simate, and in the future our products can also involve kid's scooters, drift trikes, etc. Parents can better choose gifts for their children. At present, we are selling three types of hoverboards, respectively, 6.5-inch Apato series, 8.5-inch Rex series and 10-inch tires Spino series, today I want to talk to you about the differences between them and how you should choose.
Apato - the most classic and cheap hoverboard for children. Apato hoverboards use a 36V,2A lithium battery with BMS battery management system, which is more energy efficient and safer than other brands of batteries and increases the average usage time. And equipped with dual 250W brushless DC wheel motors and 3-speed adjustment function, the range is up to 12miles and the maximum speed is up to 7.5mph. 6.5" solid tires are suitable for driving on flat ground, but its maximum weight capacity is only 220lbs and the built-in gyroscope is very sensitive and more suitable for riders with some experience. If you have a small budget and are driving indoors or on flat roads around the house and are buying for small children, then you can choose Apato hoverboards.
Rex - a hoverboard that is both practical and fun. It is very different from the Apato, not only in the appearance of the upgrade also includes a variety of internal parts upgrade, interesting and little-known point is that the Rex is a one-piece hoverboard, unlike the Apato need to put the foot on the right contact to work, Rex pedal wide and no contact, more easy to use! It also has an easy-to-carry carrying handle and a high-definition LED display, so you can clearly know the power of the hoverboard, whether it is normal and other information. In addition, the Rex is equipped with a larger capacity 36V, 4.0a lithium battery, which greatly increases riding time and makes it suitable for commuting. Its tires are 8.5-inch off-road tires, which can be explored on mud, dirt, rocks, sand, hills, and more terrain, with a maximum riding range of 12miles and a maximum speed of 9.3mph. It has a weight capacity of 265lbs and is perfectly suitable for adults.
Spino - beauty and comfort first hoverboard. This hoverboard is undoubtedly our new star, first of all, it has 10-inch large explosion-proof shock-absorbing pneumatic tires, the riding experience is very comfortable and smooth, it can take you over the rocks and down the stairs, it is actually an upgraded version of the Rex, the biggest difference in internal components is that it is equipped with dual 350W motor, making it more powerful! This is no doubt perfect for adults who want a hoverboard and will make a beginner feel very safe and easy to learn, and we have several looks for the Spino hoverboard, patterns that you won't see in other brands!
Well, this is the summary of the Simate brand hoverboards, I hope you can refer to the details and find the right one for you to buy, if you still have questions you can email or call our customer service, they will answer your questions, see you next time!
---